As people age, maintaining one's balance can be difficult. Balance decline usually begins between the ages of 40 to 50 years of age and it can be hard to adjust to a different sense of balance. That's why it's extremely important to learn how to make stairs safe for seniors, whether that is for yourself or for your parents.
With chronic pain, inflexibility, or vision issues, stairs can be particularly hard to navigate for seniors. Sadly, this is also the time that we are most vulnerable if we fall, as our bodies don't heal as quickly or as wholly when we're old. The good news is that making a stairway safer for seniors can be relatively easy! Leading Edge Mobility shares 5 effective ways to improve staircase safety for you and your loved ones.
---
Tip #1: Remove or adjust carpet runners
For those unfamiliar with the term, a carpet runner is a narrow carpet that covers a staircase. They are different from carpeted stairs, where the carpet is attached to the stairs and runs wall to wall. Carpet runners usually only cover most of the step, but still show the stairs (usually hardwood) on either side.
Carpet runners can sometimes prevent slipping because they provide texture to the stairs instead of smooth hardwood. However, a carpet runner typically does not have the appropriate slip-proof backing. If improperly installed, it can be a huge slip and/or trip risk. If you are using a carpet runner to prevent slipping, try an alternative like non-lip strips (our next tip!).
Tip #2: Add non-slip treads or strips to make stairs safe
While carpet runners may be lovely decoration, they can be unsafe. If you have been using them to prevent slipping on hardwood floors, try adding non-slip treads or strips to the stairs instead.
Non-slip treads or strips work by adding traction to each step. Most are made specifically with slip-resistant rubber backing. Non-slip treads typically look like small mats for each individual step. If you're looking for treads that complement your home's décor, you can find a variety of patterns and designs at your local hardware store!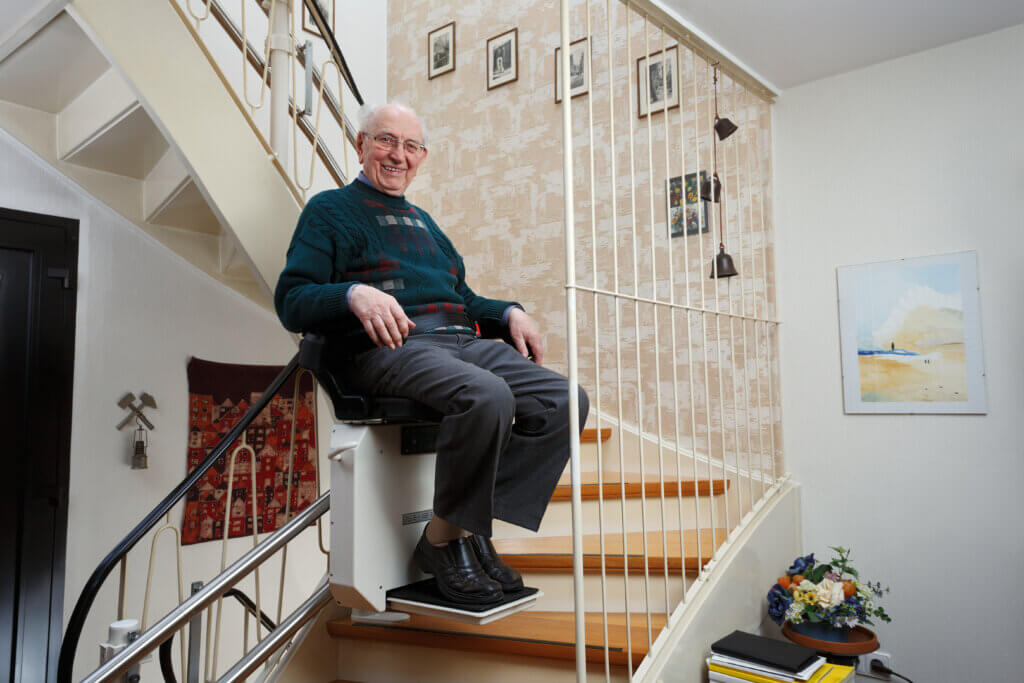 Tip #3: Install a stairlift
The saying goes: "it's better to be safe than sorry." Stairlifts are the fastest and safest way for seniors to get you up and down stairs. Stairlifts are battery-powered chairs that are mounted to a rail, designed to carry a person up or down safely. Most are operated with a simple switch that moves the chair along the track, but some can also be operated by remote control.
There are a variety of stairlift models that are available. Whether you have a straight or curved staircase, rest assured that there are models available for either type. While they are mostly used indoors, some stairlifts are also installed outdoors.
At Leading Edge Mobility, we carry a variety of quality and flexible options for your home. Comfortable and designed for reduced maintenance, our stairlifts are crafted to the exact specifications of your stairway. Check out our products and request a quote or contact us for more information!
Tip #4: Designate a resting spot
If your staircase allows it, try to design or designate a resting spot on a landing or a curve. With a wide landing, try putting a small bench in the corner. If you have only a small landing, consider putting a comfortable chair instead. A small area to rest can be a great way to give a senior a much-needed break on their way up or down the stairs. If you have the space, you can even turn it into a cozy relaxation nook!
Tip #5: Improve lighting or install smart lighting
As we age, our eyesight naturally declines. A stairway that is not well-lit can be especially problematic as vision difficulties can make stairs very dangerous. Make sure that your stairway is well-lit when needed. You can do this by installing brighter lights, adding small lamps in unobtrusive areas, or installing wall nightlights.
If you are tech-savvy, you may want to consider installing smart lighting. Smart lightning can be controlled with smartphone or tablet apps, but you can also control them with smart home systems like the Amazon Echo or Google Home. By reducing the need to find or reach for a light switch, you can reduce the opportunities to trip. You can also turn on specific lights you need with voice commands, even if they are out of reach. This article by 3D Insider is a beginner's guide to smart lighting.
Tip #6: Keep stairs safe with a clear path
Keeping a home free of clutter can be easier said than done. Stairs make for a convenient place to temporarily put things, especially if they need to go up or down eventually. However, this can be a trip hazard for everyone in the home, not just seniors.
If you are in the habit of leaving things on the stairs to take up or down, consider keeping a basket near the stairs instead. Advise children to keep their toys off the stairs and to play in areas that have lower traffic.
---
Since 2007, Leading Edge Mobility has been proud to serve the Lethbridge community with quality equipment and quality service. From the moment they walk, roll, or motor through our doors, we want our customers to know that they're in good hands.
We know how important it is for you to be able to keep your independence in your own home. Getting around your space doesn't have to be hard. Let us help you make it easy! From a wide variety of mobility services to a diverse range of products, we're here to help. Have questions? Get in touch today!