Upon Fitting Your Wheel Chair We Will Assess For Seat Cushions & Backs.
Seating & Cushions Available!
MOVE
Aluminum Folding Wheelchair
EFFECTIVE SIMPLICITY
The MOVE wheelchair meets all Motion Composites' lightness and quality objectives while remaining the most accessible folding wheelchair in our product line. We apply the latest technologies to offer a standard wheelchair that will enhance your day-to-day life with superior-quality parts for unrivaled toughness and performance.
AGILE AND COMFORTABLE HANDLING
The MOVE model was designed to offer efficiency and mobility at an affordable price. Thanks to its ingenious design, with components and accessories carefully selected by our experts, MOVE is one of the lightest standard wheelchairs on the market.
BETTER CONFIGURATION, GREATER MOBILITY
MOVE is a well-built adjustable wheelchair equipped with highly functional components. The lightweight composite armrests easily convert from flip-back to single post and can be just as easily adjusted for height. MOVE adapts to your life and fulfills our mission: to increase
A DURABLE, SUPERIOR-QUALITY WHEELCHAIR
Solid design and reliable components that give you more. From flip-back convertible armrests to integrated push handles and Newton One spoke wheels, MOVE offers excellent durability, serving you for many years to come.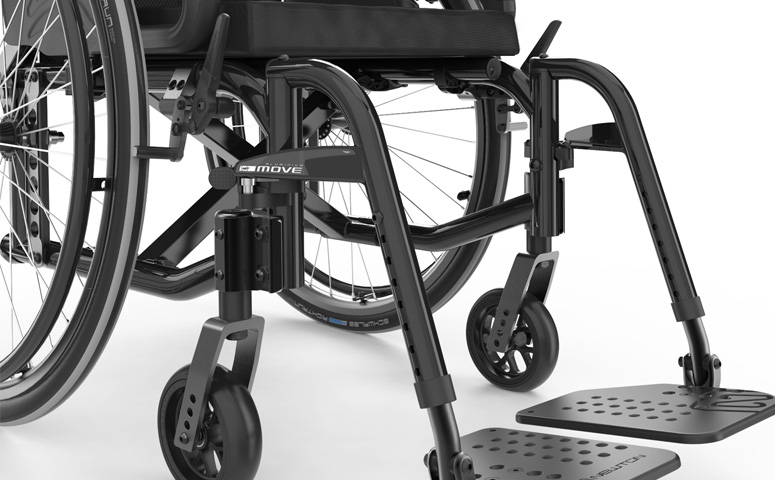 OPTIMAL SEAT-TO-FLOOR HEIGHT
The frame's innovative design allows you to achieve a super-low 12-inch (30.5-cm) front seat-to-floor height. In addition to easier contact with the floor, this feature provides better foot propulsion. Or, move it beyond 20 inches (50.8 cm) to meet your most challenging needs.
STRUCTURE
Frame: Folding
Material: 6061 aluminum
Transport Weight: 14 lb. | 6.4 kg (16 x 16 without rear wheels, wheel locks, armrests, cushion, anti-tippers and footrest). Lightest configuration: 24 lb. | 10.9 kg without wheel locks and wheels.
Weight Limit: 265 lb. | 120 kg — 350 lb. | 159 kg – HD Kit
DIMENSIONS
Seat width: 14 in. to 22 in. – 35.6 cm to 55.9 cm
Seat depth: 16 in. to 20 in. – 40.6 cm to 50.8 cm
Front seat to floor: 12 ½ in. to 20 ½ in. – 31.8 cm to 52.1 cm
Rear seat to floor: 12 ¼ in. to 20 in. – 31.1 cm to 50.8 cm
Back height: 16 in., 18 in., 20 in. – 40.6 cm, 45.7 cm, 50.8 cm
Armrest Height: 8 in. to 14 in. – 20.3 cm to 35.6 cm
Front frame angle: 60°, 70°
Back angle: 90° to 110°
Wheel camber: 0°
Center of gravity: 3/4 in. to 2 in. – 2 cm to 5.1 cm
Overall width: 20 ¾ in. min, 33 ½ in. max. – 52.7 cm min, 85.1 cm max.