As we age, the ways we interact with our spaces can change. Bathrooms in particular can be a huge problem area for seniors. With hard floor surfaces and potential sharp edges on counters, sinks, tubs, and more, the risk of painful injury can be higher in a bathroom. Wondering how to improve bathroom safety for seniors? Leading Edge Mobility shares 8 helpful tips to make the space safer for the people you love!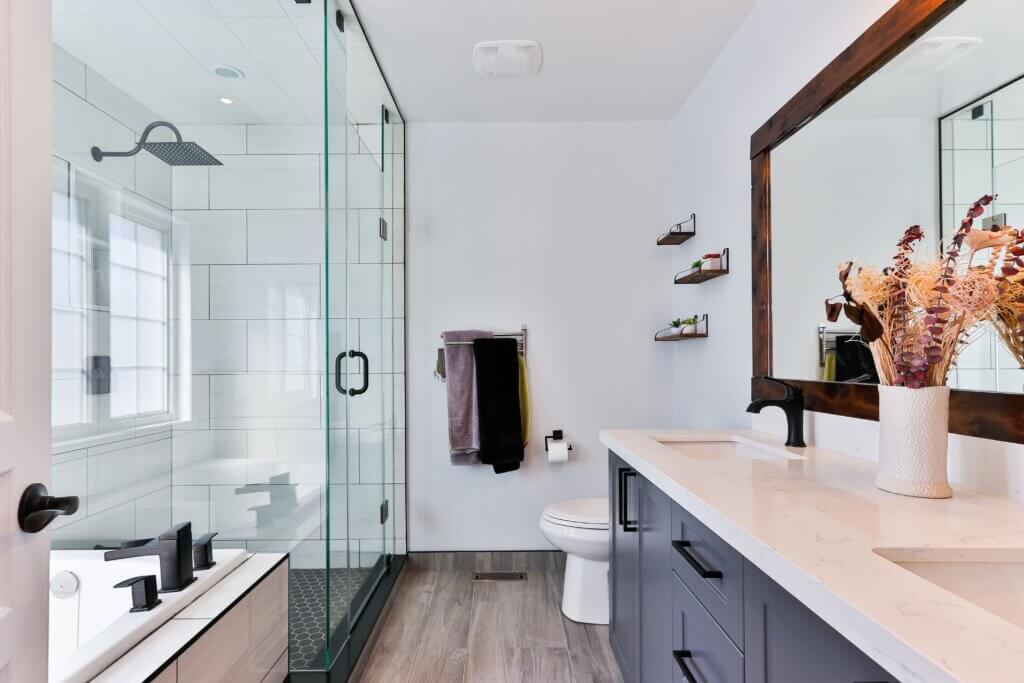 How to Improve Bathroom Safety: Reduce Clutter
Keep floors clear of clutter, such as piles of clothes or cleaning supplies. It's recommended that you remove any mats that are not non-slip as this can be a safety hazard. Keep the bathroom clean and organized at all times and store cleaning supplies away from the main traffic areas or underneath the sink.
How to Improve Bathroom Safety: Keep Things Within Reach
If your bathroom has a tub with a shower, consider installing a shelf or cabinet on the wall so you can keep bottles of shampoo or shower gel within easy reach. Some shelves can be affixed to a wall with suction cups, which makes setup easy! Place your toiletries in these shelves instead of along the edge of your bathtub. This takes out the need to reach far away to grab what you need, and will help you stay safe!
How to Improve Bathroom Safety: Install a Handheld Showerhead
A handheld showerhead is great to have! With a moveable showerhead, you no longer need to turn constantly to rinse different parts of your body. By minimizing movement, you are also reducing your slip risk. If you are using a bath or shower chair, a handheld showerhead can also give you the flexibility you need to wash hard-to-reach areas without having to worry about falling.
Easy to install and available with different functions and settings, handheld showerheads allow you to adjust the water pressure to what you need. Choose the one that best suits your needs!
How to Improve Bathroom Safety: Use a Weighted Shower Curtain
While a good shower curtain can do the job, you may want to consider investing in a weighted shower curtain. Heavier than your standard shower curtain, the weighted fabric makes sure that the curtain never lifts by accident. This helps prevent your floor getting wet, which can make it slippery.
How to Improve Bathroom Safety: Install Grab Bars
Grab bars are a great addition to add extra security in your toilet, bath, and shower areas! They help you stay steady when getting in and out of the tub or on and off the toilet. Better yet, if you happen to slip, you can grab onto them to prevent a full-on fall.
Grab bars are made of sturdy material and securely bolted to the wall. It's important to remember that you should not grab onto your towel rack or toilet paper holder as they have a chance of coming off the wall entirely. This could result in a loss of balance or injury.
Looking for more information on bathroom safety equipment? Visit the Leading Edge Mobility showroom to see all our bathroom safety products or contact us today!
How to Improve Bathroom Safety: Use Non-Slip Bath Mats
Use non-slip mats wherever you can in your bathroom. If you have bath mats around the bathroom, make sure that they are not slipping along the floor as this could be a hazard. Using a non-slip mat in your bathtub or shower gives your feet traction and reduces the risk of slipping or falling. Make sure that you also have a secured bath mat to dry your feet!
How to Improve Bathroom Safety: Use a Non-Slip Shower or Bath Chair
If you are worried about falling while in the bath or shower, getting a non-slip chair can be helpful in not only mitigating the risks but also giving you peace of mind. Bath chairs come in a variety of different options, and you can visit a retailer like Leading Edge Mobility to find something that suits your needs!
How to Improve Bathroom Safety: Talk to a Mobility Expert
Since 2007, Leading Edge Mobility has been proud to serve the Lethbridge community with equipment and service that improves quality of life. Book an appointment for an in-home assessment or stop by our showroom to view all our bathroom safety products today. We also offer in-home delivery and installation to ensure that everything is safely in place. Let us help you set up your bathroom so you can keep your home safe and secure for you! Contact us today for more information or to book an appointment!