September is World Alzheimer's Month, with World Alzheimer's Day taking place every year on September 21st. During the month of September, the Alzheimer's Society encourages everyone to learn more about dementia and Leading Edge Mobility is happy to spread the word! Dementia can take its toll on any household, especially those that have residents with mobility issues. In this blog post, we share 10 thoughtful tips to teach you how to make a home dementia friendly.
According to the Alzheimer's Society, dementia is one of the biggest global challenges, with nearly 50 million people living with dementia worldwide. For a person living with dementia, being able to live at home can help give a sense of independence. By making improvements or changes around your home, you can make it a space that's easier to navigate. This allows you to continue with routines, hobbies, or activities you enjoy while also staying safe and active.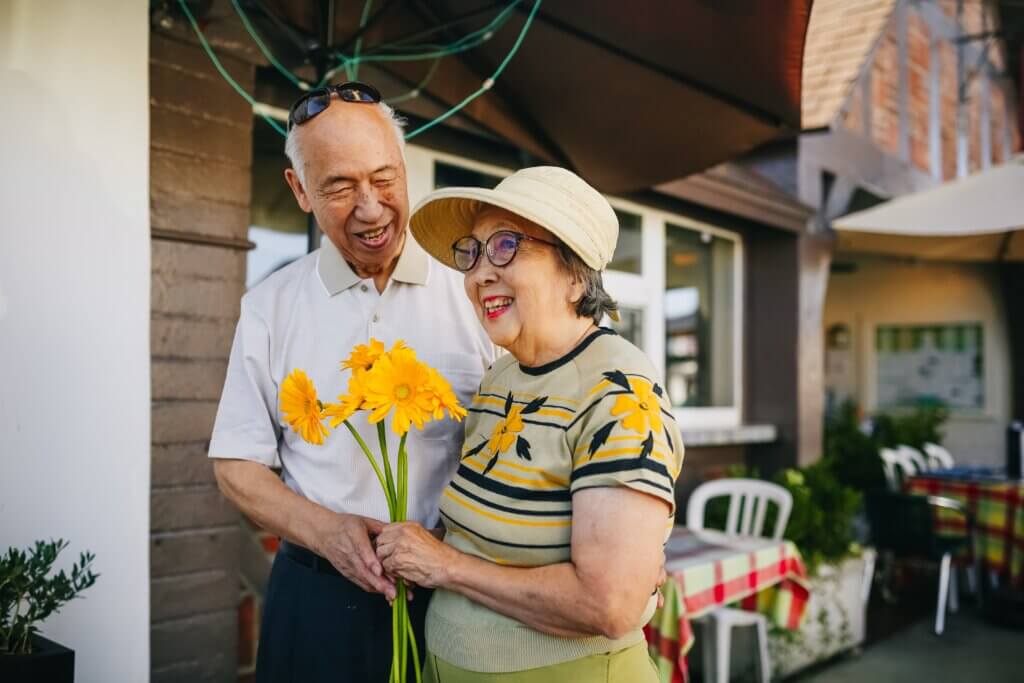 #1: Make Sure You Have Good Lighting
By ensuring you have plenty of natural light in your home, you are also making sure you can see your surroundings clearly. This helps you make sense of where you are. Make sure that there's nothing blocking your windows so that light can enter.
If your home does not have plenty of natural light, consider adding more doors or windows as a renovation project if possible. If not, you can brighten up a room with the help of lamps and nightlights!
#2: Keep Your Floors and Flooring Safe
In order to remove the risk of tripping, it's important to remove any tripping hazards. This can include rugs, mats, or other hazards like cables. Always ensure that any shoes or toys find their place and are not left on the ground. For more tips on how to keep stairs and other common areas safe for seniors, check out our blog post on this topic.
If you are buying a home or renovating it to be more dementia-friendly, make sure that the flooring you choose can be seen clearly. Avoid anything that's too shiny or that is a similar colour to the walls.
#3: Simplify Eating and Drinking
Eating and drinking well is essential to keeping a healthy lifestyle. The Alzheimer's Society recommends using plates, cups, and tablecloths with colours that contrast with food. This allows it to be seen more easily. The Society also recommends using clear plastic containers to store food, so you can see and remember what is inside.
#4: Get Furniture That is Clearly Visible
Dementia can affect how well a person can tell the difference between colours. Whether you're picking out a lift chair or a sofa, try to pick furniture that has bright and contrasting colours. This helps you see the furniture better, allowing you to quickly find an area to rest. The Alzheimer's Society recommends staying away from stripes and strong patterns as they can be confusing. However, if you are looking to increase visibility on your current furniture, consider adding a bright and contrasting throw, pillows, or new upholstery.
In a video from the Alzheimer's Society, Wendy Mitchell, an author and senior woman living with young-onset Alzheimer's disease, adapts to her new home. In the video, she describes having a problem with light switches because they tend to blend into the wall. To counter this, she painted a bright blue box around the light switch so she could easily find them in the future.
"It's important to remember that dementia isn't just about memory," Mitchell says. "Lots of our other senses are affected as well and sometimes the things we see are not interpreted correctly by our brains."
#5: Remind Yourself of Where Things Are
As everyone knows, memory problems are a common effect of dementia. If you or a loved one is having a problem remembering where things are kept, put signs and labels that remind you of where they are. Signs and labels should be easily understood and visible. You can do this by using a clear picture or making sure that the text on the label is big enough to read.
While creating signs and labels for things in drawers might seem obvious, you may want to consider labelling other less obvious items as well. "Closed doors are very confusing to people with dementia," Mitchell says. "You don't know or don't remember what's on the other side of the door."
Mitchell describes a problem she had where she was unable to remember what was behind two doors that led to her kitchen. She recalls becoming confused and going around in circles until she eventually decided to remove both doors. While this move may not be realistic for some areas such as bathrooms or bedrooms, you may want to consider clearly labeling doors to help people living with dementia know what is on the other side.
#6: Keep Your Bathroom Simple and Clutter-free
Clearly mark doors to bathrooms. If your toilet tends to blend into the wall, consider removing the toilet lid or using a bright toilet lid cover to make it easier to identify. It may also be helpful to use towels and toilet paper rolls with colours that contrast the walls. Keep areas clear of clutter and look for ways to improve bathroom safety.
#7: Install Equipment That Keeps You Safe
Do you or a loved one have a risk of falling? Install grab rails in important areas to prevent or soften falls. This could be in bathrooms, next to your bed, or high-traffic areas.
Apart from products that help improve your mobility or keep you safe, make sure that smoke alarms and carbon monoxide detectors are in good working condition. You may also want to consider installing smart technology and/or sensors around your home. For example, you could install a nightlight that turns on if it detects movement so you will be able to see on your way to the bathroom. You can also install a smart thermostat that maintains a temperature that you set in advance. Another useful device could be a sensor that detects if water has been left running. The possibilities are endless!
#8: Stay Active and Engaged
Dementia doesn't have to mean giving up the things you love. In fact, indulging in your hobbies and taking the opportunity to get outside is good for your wellbeing. Staying socially engaged can help prevent or slow symptoms of dementia. Ensure that you or a loved one living with dementia have a strong network of friends and family! Having trouble keeping track of the day? Use a large-faced clock, a calendar, or even a white-board to remember events, outings, or even just to write reminders.
#9: Make the Front of Your Home a Special Place
Similar to problems inside the home, Wendy Mitchell also encountered an issue with the exterior of her house. Her new home was situated between several other buildings that looked very alike. This meant that sometimes she would go up to the wrong house when returning home. To combat this, Mitchell installed a forget-me-not tile next to each door that led to her house. Whether it's in the arrangement of your garden and the types of flowers in it or decorations and paintings on the porch, ensure that you have an easy time telling your home apart from the others.
If you spend a lot of time in the garden, make sure you have a space where you can sit and rest if needed. As always, make sure that it stands out from its surrounding area. You can even take the opportunity to make it into a personal, relaxing oasis!
#10: Talk to a Mobility Expert
Not sure what mobility products can help improve your quality of life? Leading Edge Mobility provides in-home assessments to determine what mobility and safety products can keep you safe and independent in your home. Contact us today for more information or to book and appointment!
Since 2007, Leading Edge Mobility has been proud to serve the Lethbridge community with high quality equipment and knowledgeable expertise. Stop by our showroom to see all of our products or talk to us today about how we can help. We're always ready to get you back to moving around, whether it's on two legs or four!